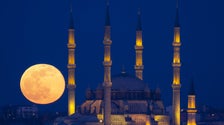 With the never-stopping news cycle, it's easy to miss great images that fly under the radar. We've got you covered.
We're highlighting exceptional photos from around the world for the week of Feb. 8-14. Check them out below. 
Above: The year's first supermoon is seen next to Selimiye Mosque in Edirne, Turkey, on Feb. 9, 2020. A supermoon is a full moon that roughly coincides with the closest distance that the Moon reaches to Earth, resulting in a larger-than-usual visible size of the lunar disk. 
Yawar Nazir via Getty Images
An Indian Muslim woman shows her indelible ink-marked finger after casting her vote outside a polling station on Feb. 8 in Delhi, India.
Suhaimi Abdullah via Getty Images
The Ba Yi aerobatics team from China's Army Air Force perform an aerial display with J-10 fighter jets during the media preview for the Singapore Airshow on Feb. 9.
PAUL FAITH via Getty Images
Robyn Peoples (left) and Sharni Edwards kiss as they pose for photographs after becoming the first same-sex couple to get married in Northern Ireland. The ceremony was held in Carrickfergus, north of Belfast, on Feb. 11.
MARK RALSTON via Getty Images
Nacho Libre wrestlers perform during the Lucha Vavoom 'Valentines Day' show at the Mayan Theatre in Los Angeles on Feb. 12.
CATRINUS VAN DER VEEN via Getty Images
A man stands on the edge of a seawall during Storm Ciara in Harlingen, The Netherlands, on Feb.  9. The storm was marked by unusually high winds across Europe, causing many countries to cancel national and international sporting events.
Kevork Djansezian via Getty Images
Writer-director Bong Joon Ho had his hands full after the 92nd Annual Academy Awards show in Los Angeles on Feb. 9. His film "Parasite" won the Oscars for Best Picture, Best Director, Best Original Screenplay and Best International Feature Film.
Alex Grimm via Getty Images
German Firat Arslan recoils from a punch thrown by South African Kevin Lerena during their IBO World Championship Cruiserweight title fight in Goeppingen, Germany, on Feb. 8. Lerena, the reigning champion in the division, won in 6 rounds.
PABLO GARCIA via Getty Images
Two migrants are pictured on board the Spanish NGO Maydayterraneo's Aita Mari rescue boat on Feb. 10, a day after their rescue off the Libyan coast. 
Armando Franca/AP
Kai Lenny of Hawaii rides a wave during a surfing competition at Praia do Norte in Nazaré, Portugal, on Feb. 11.
LILLIAN SUWANRUMPHA via Getty Images
Buddhist monks take their places before prayers during Makha Bucha celebrations at Wat Dhammakaya temple in Bangkok on Feb. 8.
Lee Jin-man/AP
South Korea's You Young performs during the gala exhibition at the International Skating Union's Four Continents Figure Skating Championships in Seoul, South Korea, on Feb. 9.
Idris Solomon / Reuters
A model presents a creation from the Marc Jacobs Fall/Winter 2020 collection during New York Fashion Week on Feb. 12.
Calling all HuffPost superfans!
Sign up for membership to become a founding member and help shape HuffPost's next chapter